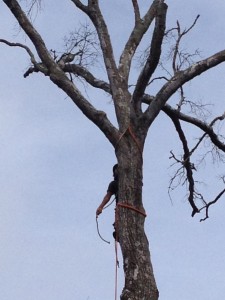 H and H Tree Service removes all sizes and quantities of trees. H and H can work in both front and back yards using ladders, ropes, and saddles. The experienced tree removal experts use a rope to move tree branches and logs away from any obstacles on the ground.
The professionals at H and H Tree Service are the best in close-quarter tree removal. All debris is hauled away and all cleanup is done by air blowers and rakes.
We take special care in protecting both your trees and the surrounding landscape and are particularly sensitive to protecting young plants, avoiding the use of heavy equipment whenever possible, and advising our clients on best practices for the removal of their trees.